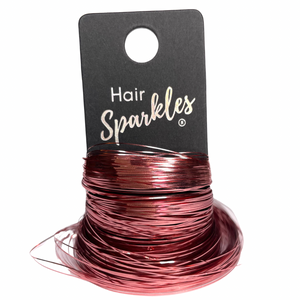 Rose Gold
A stunning pink gold, gorgeous on blonde or warm on brunettes. These strands are in our shiny variety.
PLEASE NOTE THAT THESE STRANDS ARE A NEW SHADE OF ROSE GOLD, THE PREVIOUS ONES ARE NOW CALLED 'COPPER'
All of our Pro Packs are tied with a knot that you can tighten as the strands get used, helping you keep your Sparkles neat and tidy right to the last one!
Available in packs of 50, 100 or 200 
Approx. length: 40"
Width: 0.2-0.3mm
Heat Resistant to 210C
Colour Resistant
Wash/Dry/Swim Safe
STOCK UP AND SAVE!!
*Save 10% on 5 or more packs of Hair Sparkles® - enter SAVE10 at checkout
*
Save 15% on 10 or more packs of Hair Sparkles® - enter SAVE15 at checkout
*Save 20% on 20 or more packs of Hair Sparkles® - enter SAVE20 at checkout